Quality Event Flooring Systems protects TIAA Bank Field for historic Lynyrd Skynyrd Concert in Jacksonville
With two lightning delays from passing storms, an estimated 50,000 fans remained charged when Lynyrd Skynyrd's familiar guitar riffs shocked the crowd about 10:30 p.m. The band that formed in Jacksonville nearly 50 – years ago headlined the show, taking the stage for what they claim will be their last hometown concert.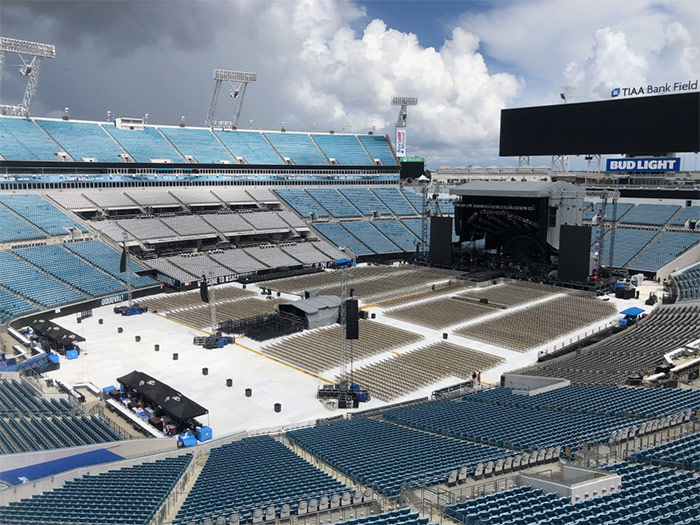 Through the set of classics everyone in the crowd seemed to know by heart, Johnny Van Zant remembered and honored band members lost over the years, from his older brother, original lead singer Ronnie Van Zant, to Ed King, a guitarist who died just two weeks prior.
Quality Event Flooring Solutions was chosen to provide the field protection for this historic Farewell Tour, which was the first major concert at Jacksonville's TIAA Stadium since 2015. In order to protect as much natural grass as possible while providing access for cranes and forklifts, 80,000 sqft of Supa-Trac turf protection and 8,000 square feet of I-Trac drivable flooring was used, with excellent results.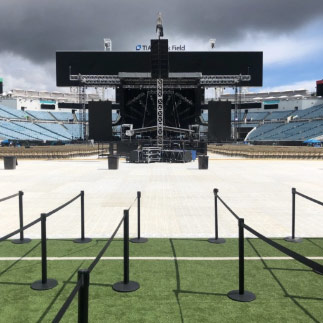 According to Quality Event Supervisor Jack Houston, "Live Nation was very happy with the performance of I-Trac and Supa-Trac, and impressed with install and strike timeframes. The turf crew for the stadium was super happy with the Supa-Trac, and they couldn't believe how good the natural turf looked after removal."
With one of the largest and newest inventories in North America, Quality Event Flooring Systems is quickly becoming an industry leader in turf and ground protection for large events. Contact us anytime to discuss how to make your show the best it can be!
About Quality Event Flooring Systems
Quality Event Flooring Systems provides nationwide, full-service, portable flooring rentals and sales for the special event market including concerts, festivals, sporting events, weddings, and more. With over 75 years combined expertise in the event industry, Quality Event Flooring can provide all of your flooring needs on time and on budget. With strategically located depots and multiple shipping and logistics resources, your project's success is ensured. Click on the links below to view recent projects or learn more about our event flooring products and applications.
Contact
For more information, call Quality Event Flooring Systems at 1-800-227-8159.